Eastern Garter Snakes have a very large range, and within that range a number of color and pattern variations occur. Perhaps the most interesting being the version with no color or pattern. In northwest Ohio, populations of all-black snakes can be found along with their standard-looking relatives.
Melanistic Eastern Garter Snakes are predominantly a deep black. Immediately after shedding their skin they can be extraordinary beautiful. Also, the underside is completely black. I came across several individuals on a recent trip to northwest Ohio, as well as many examples of striped garters, which would be considered typical in appearance.
Often the chin, lip and some scales on the side of the head, can have their normal color of whitish or brownish. Melanism can be thought of as the opposite of albinism. While albinism is the absence of melanin (a dark colored pigment found in skin), melanism is the overabundance of melanin, leading to an individual with an abnormal amount of black coloration.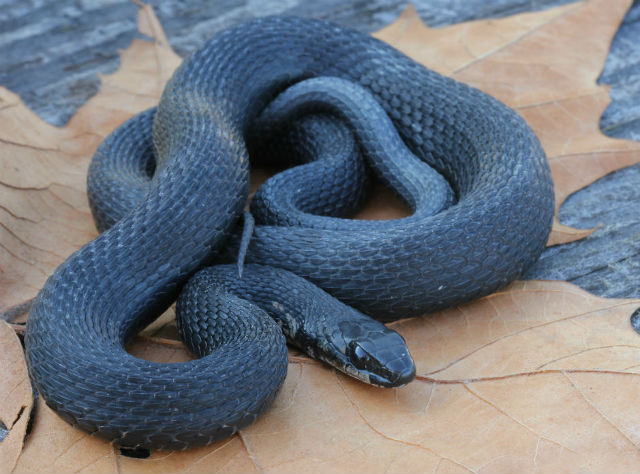 Mutations that lead to melanism can arise randomly in any animal that has melanin; however, mutations that cause melanism and albinism are uncommon. This leads to sporadic occurrences of a color abnormality that randomly occur across multiple populations. For a trait like melanism to sustain itself in a population, being melanistic must benefit the individual in some way (give it an increased chance of survival).
In the Eastern Garter Snake, being melanistic makes it faster for an individual to warm up while basking in the sun. The color black absorbs light wavelengths efficiently, resulting in the black individual gaining more heat energy than the yellow and brown striped individuals. This give them a competitive edge on the cool Lake Erie shore.