For The Birds
Woodpeckers perch near a sign indicating that they are protected in this area.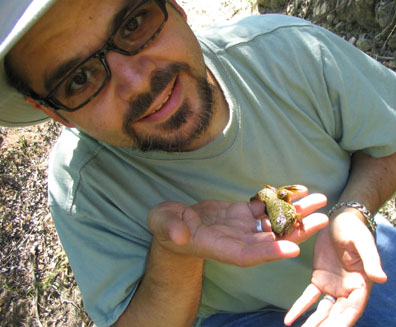 Tadpole Troublemakers
My friend Lenny checks out a metamorphising American Bullfrog (Rana catesbeiana). These amphibians are not native to the state and are eating some of California's frogs out of existence.
Click here to see another pic

A Lot of Bull
American Bullfrogs were found in nearly every location that had water - this invasive species seems to enjoy a California lifestyle.

Lots of Lizards
Western Fence Lizards (Sceloporus occidentalis) were seen in most places we went to - they are very common.
Click here to see another pic

Starstruck
The Lick Observatory is a place for the study of astronomy, owned and operated by the University of California. It is situated on the summit of Mount Hamilton.

Shoe Snake
We found this yearling Northern Pacific Rattlesnake (Crotalus viridis oreganus) but had no collecting equipment. I put it in my shoe so we could retain it for photographs (don't try this at home).
Click here to see another pic