A couple of weeks ago when I went out to get the mail and opened the back door or the mailbox, I saw a spiderweb. It was apparent that a spider was living in there.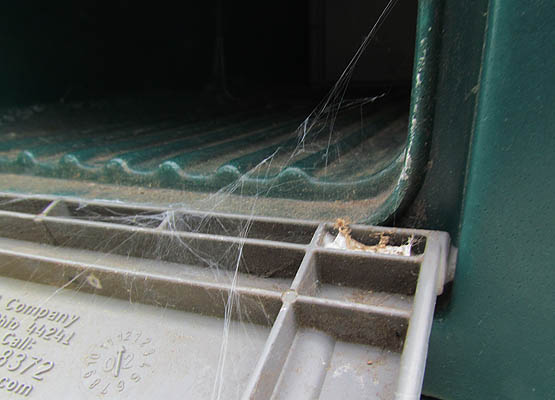 I thought it was nice to have an insect-free mailbox, with the spider quickly ridding it of any small creature that happened to wander inside it. I mean, who wants bugs in their mailbox?
The mailman, however, had a different point of view on the subject and did not share my enthusiasm. I have a rock garden in my backyard with plenty of crickets. They sing all the time. So I removed the spider from the mailbox and released him into the garden. You have to keep the mailman happy.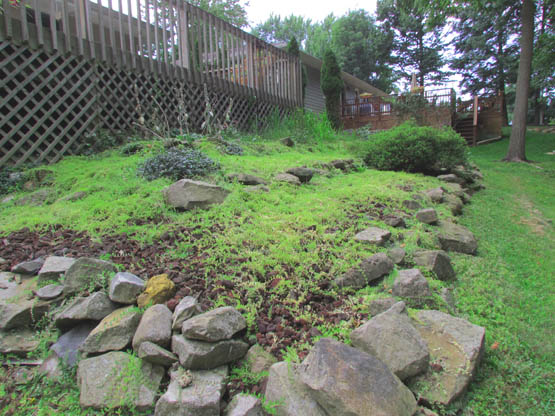 I kind of missed seeing my 8-legged friend in the days that followed. But recently I went out to get the mail and guess what?
Grass Spiders are commonly seen in Ohio and are classified as funnel web weavers. The structures they build are recognized by the large, somewhat concave, mostly horizontal, sheet-like web with a funnel or tunnel located off to one side.
The webs are found on grass, weeds, ground cover and in exterior places such as fencerows, bushes, brush piles, houses and garages. Funnel weavers and grass spiders build their funnel-shaped webs close to the ground. They hide in the narrow end of the funnel, which is usually protected by leaves or rocks.
Juvenile Grass Spiders emerge from the egg case in Spring and begin constructing miniature versions of typical webs. Throughout the weeks that follow, the web is enlarged, and by late Summer it can be quite sizeable.
Sometimes the web has a thin tangle of threads above the sheet. These act as "knock-down" threads for flying insects. After hitting these threads, the flying insect tumbles onto the sheet and is attacked by the spider.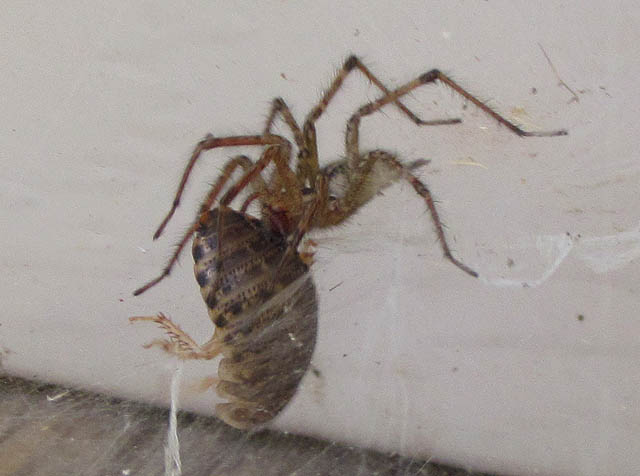 Many common funnel weavers are also characterized by having bristly legs, which may aid in sensing prey. When an insect, spider, or other small creature crosses the wide end of the funnel, the spider feels the vibration and rushes out to grab its food.
The silk of this spider's web is not adhesive. The Grass Spider relies upon lightning reflexes to dash out and grapple with its prey on the sheet. They are valuable to humans because they keep the insect population in check.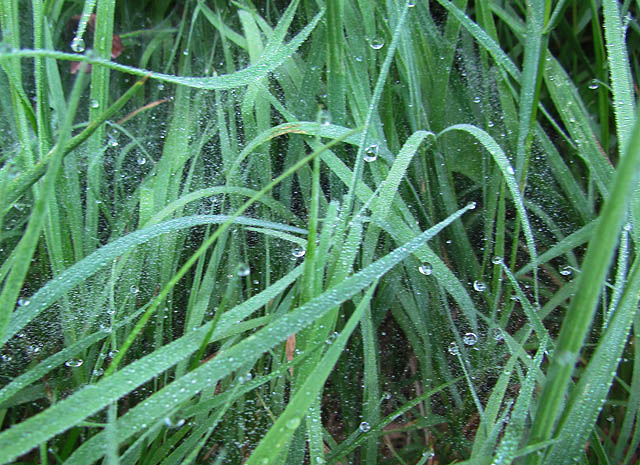 There is an old saying about Grass Spiders: When there is dew on their webs in the morning, it will be a beautiful day.