While visiting northwest Ohio recently, I observed several of these huge waterfowl. Trumpeter Swans are listed as Threatened in Ohio. In 1996, Ohio became one of a number of states involved in reintroduction plans to restore them to the Midwest.
These birds were killed for food and skins, first by Indians and then by white men upon arrival on the continent. The plumage trade peaked in the early 1800s and swan populations were dramatically reduced by the mid-1800s. Loss of habitat for this wetland-dependent species resulted in further declines.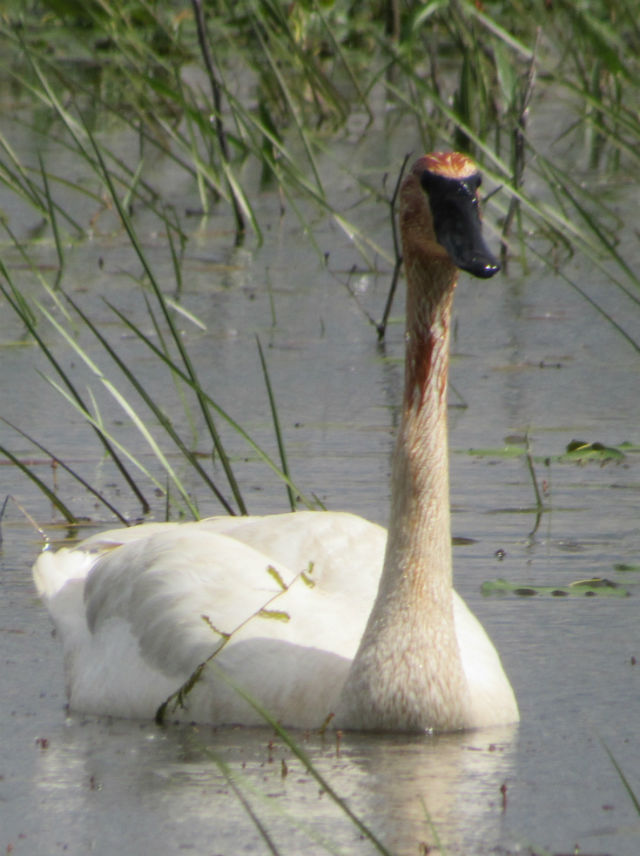 Weighing from 25-35 pounds when fully grown, the Trumpeter Swan is the world's largest waterfowl. Adults usually measure 4-1/2–5-1/2 feet long. When fully extended, their wingspan can reach nearly eight feet.
The long neck of the Trumpeter Swan is an adaptation that allows the bird to access food inaccessible to other species of waterfowl. Trumpeter Swans forage on water and, especially in Winter, on land. Their long necks allow them access submergent vegetation without diving.
Trumpeter Swans inhabit lakes, ponds, large rivers, and coastal bays. They were historically more common in fresh water than salt water, but this is no longer the case.
They are a long-lived, social species.