This is a fun bird to encounter while visiting the Golden State; it is both colorful and intelligent. Their behavior can be bold and inquisitive, and their calls can be loud and raucous. The California Scrub Jay is often seen in parks, neighborhoods and riverside woods near the Pacific Coast.
Pairs of California Scrub-Jays are often seen swooping across clearings, giving harsh calls, with their long tails flopping in flight. This is a bird that does not migrate. Western Scrub Jays eat insects, fruits, nuts, berries, and seeds, and occasionally small animals. They are regular visitors to bird feeders.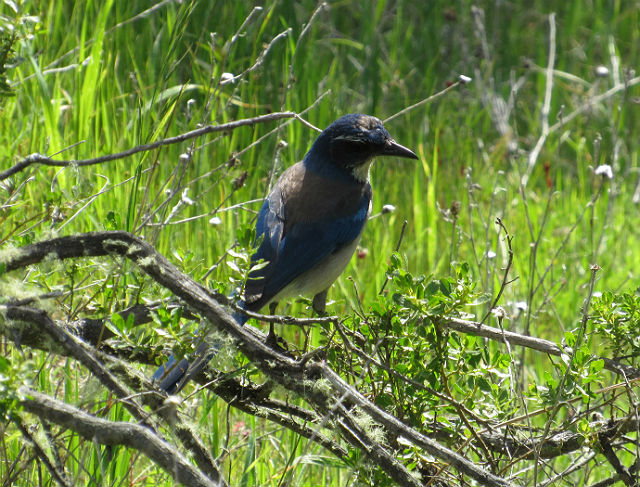 California Scrub Jays gather surpluses of food and store it in scattered caches within their territories. They rely on highly accurate and complex memories to recover their hidden food, often after long periods of time. Jays can also be quite mischievous when it comes to procuring and storing food. They will steal acorns from Acorn Woodpecker caches as well as from stores hidden by other jays, and then look around to make sure no one is watching before they hide their stolen prize.
Recent research has suggested that jays and crows are among the most intelligent of animals. The brain-to-body mass ratio of adult California Scrub Jays rivals that of chimpanzees and is dwarfed only by that of humans.
Western Scrub Jays appear to have "funerals" in reaction to finding a dead jay. They will screech over the body, attracting other jays, for as long as 30 minutes and stay near the body for a day or two. We often don't think of birds as being as "brainy" as mammals, but crows and jays are challenging that mindset.