This is an evergreen shrub up to three feet high and wide, displaying purple flowers about one inch in diameter. It can be found in chaparral habitat and low-elevation oak woodlands in California and parts of Baja California and Arizona.
It has bright purple or blue frilly flowers with thick yellow anthers at the center. The flowers close into spherical buds overnight. Its dark gray-green oval-shaped leaves grow on hairy green stems. All parts of the plant are toxic to people and some animals. However, it is very attractive to insects.
Though the main bloom period is spring and summer, some flowers will occur for most of the year. When a Blue Witch flower finishes blooming, it bears small round green fruits which turn purple when ripe and resemble tiny eggplants.
While beautiful to look at, it is also a tough shrub which can grow in rocky and clay soils and springs up in areas recovering from wildfires or other disturbances.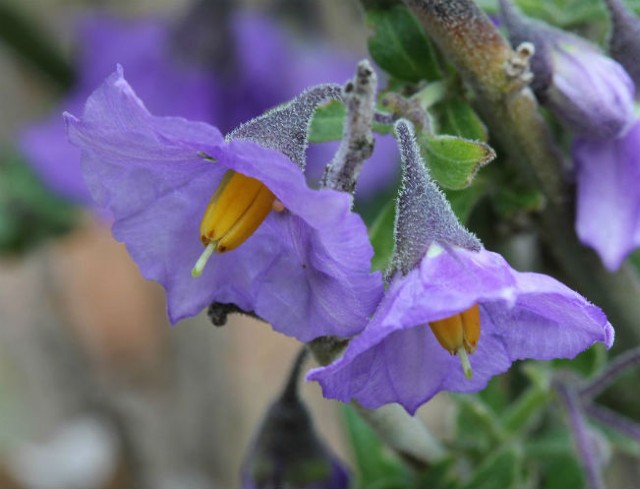 This plant is also known as Purple Nightshade, Purple Witch and Parish's Nightshade – it was neat to encounter it while hiking on Mount Hamilton during my visit to California.